my parents were in town for a few days this past week.
they stopped in to see us on their way from the MTC in provo, utah to their mission in hope, british columbia.
it was fun to have them visit.
and it was lots of fun to hear about their MTC experience, listen to them give a farewell talk in their old calgary ward, and see them looking all official with their missionary tags on.
i am proud of my parents for making a mission a priority and i am so grateful that our boys have them as great missionary examples.
Hope, BC is a small town of 6000, nestled right in the middle of the rocky mountains.
the pictures that my mom has sent me of their views are gorgeous.
a branch of 65 people was just organized in the town about 1 month ago, so my parents will be very involved in helping that branch become established and prosper.
they will be serving there for 6 months, and then plan to serve a longer mission after that.
other things that we have been up to this past week are..
we celebrated tank's 7th birthday.
yep, we still do something to celebrate that little terd's birthday.
he may not be the smartest creature on earth, but he is still part of our family!
matt and the boys got me a nice gift (that i have been admiring at the store for years now!) and made me the cutest card.
matt interviewed the boys and wrote down their funny answers to his interview questions in the card.
what a creative boy i married!
every time i read it, it makes me laugh.
my mom was even here for mothers day, so that was pretty special.
it's finally watermelon season!
and we have been going through obscene amounts of it.
(and by 'we' i mean 'holden and i').
watermelon has always been my favorite fruit.. but only when it is a good one.
i can't stand a not-perfect watermelon, but swear i could eat an entire perfect one!
matt got a really great 1 year review at his work.
i am very proud of him, and also very excited for the changes that will mean for our family.
we had swim lessons again this week - round 2, lesson 2.
round 2, lesson 1 was not chet's finest class.
i made the mistake of telling him that he was moving up to a bigger class and, instantly, he was stressed.
then i tried to back track and tell him that it actually wasn't a big deal moving up to a new class, they basically teach the same thing.
but it didn't work. i already had ruined everything!
chet was so nervous at his first class in his new level and didn't participate how he had in the previous class.
so when we went to our second class i bribed encouraged chet.
i told the boys that if they listened to everything their teacher told them to do, i would buy them a happy meal after class.
a happy meal is a big deal to our boys! we never buy them.
they think happy meals are exciting because it means they get a toy aaaand their very own drink.
the bribe encouragement worked.
my heart ached as i watched my little chet follow every single thing his swim teacher asked him to do.. through tears!
he would have such a worried look on his face as he watched all the other kids in his class participate in each exercise.
and, when it got to his turn, he would wipe away the tears and do what he was asked.
it was honestly so hard to watch!
i kept giving him big cheesy smiles and thumbs up, from across the pool, but it didn't seem to cheer him up. he was too worried.
i'm not sure why he is so worked up about being in a new swim class!
and i have absolutely no idea what his teacher was thinking as reluctantly participated in all the activities!
but, nonetheless, he did it. he earned himself a happy meal!
and i am very proud of him for pushing through something that he found so scary!

we planted our vegetable garden on holiday monday.
last year, we used some of the garden plot at my aunt and uncle's acerage to plant our vegetable garden.
it was a fun project to work on throughout the summer and to harvest in the fall.
we were hoping that we would be allowed to use some space again this year.. and we are!
their property is literally just a 2 minute drive from our home so it couldn't be more perfect.
we spent probably 7 hours at the garden that day - roto-tilling, planning, planting, and watering.
it shouldn't have taken that long, but it seems as though my indecisiveness is wearing off on my husband.
we put way too much thought into what rows of plants went where.
chet and holden helped a bit but,
just like last year, their favorite part was just riding the little john deere tractor.
this year we planted peas, beans, carrots, potatoes, cucumbers, zucchini, corn, pumpkins, and watermelon.
we don't have a lot of hope for the watermelon (seeing as how we live in canada) but the boys are excited for those.
they are also pretty pumped to carve a pumpkin they grew, come halloween.
so hopefully we grow at least one pumpkin!
we plan to visit the garden each monday, as our summer family night activity again.

after our garden planting, we went down to the west end of fish creek park for a hotdog roast with all the leavitts.
we ate dinner, played games, and visited.
matt even took lots of the cousins on a snake hunt.. and actually came back with one!
building with grandma and grandpa.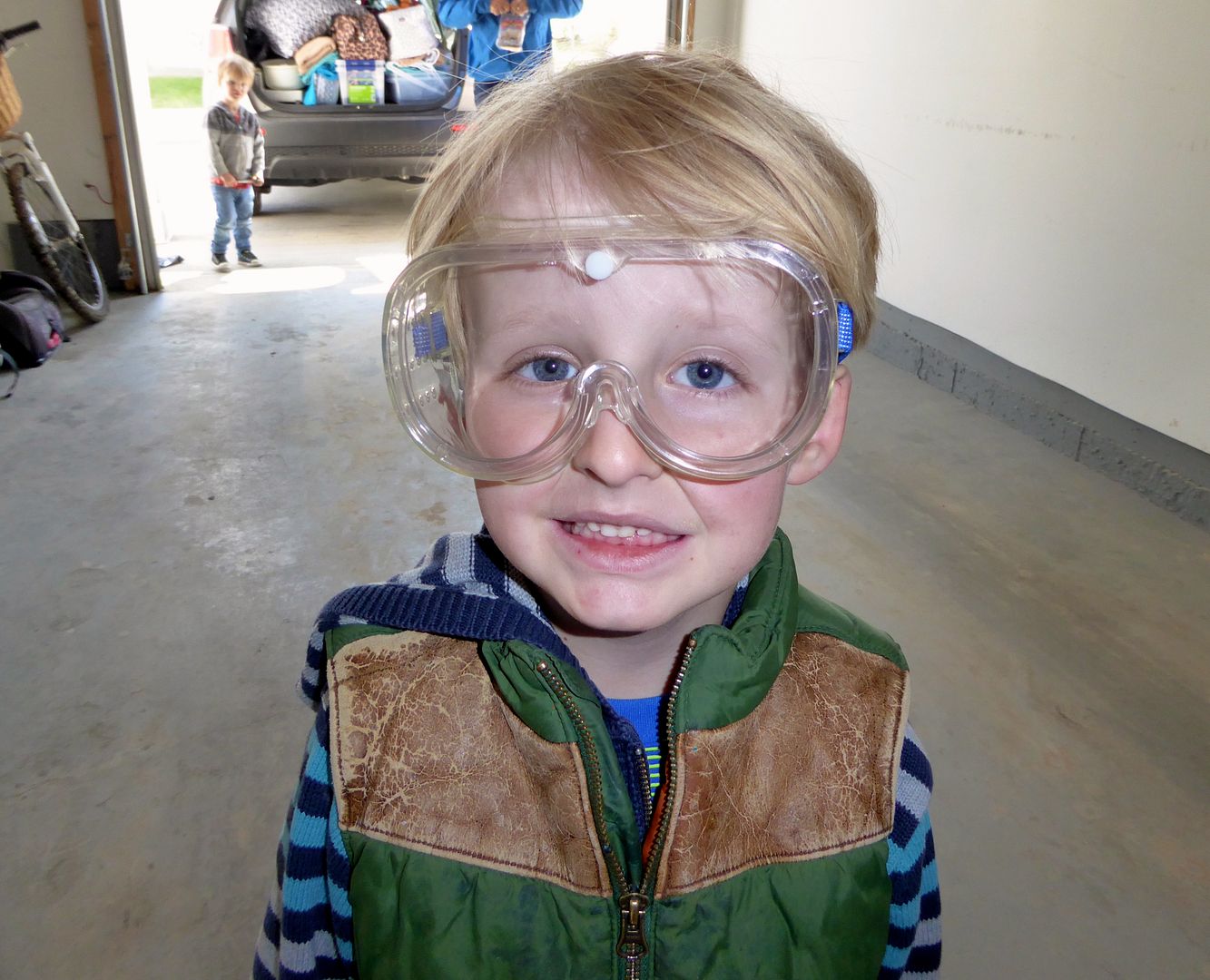 at our garden. playing in mud.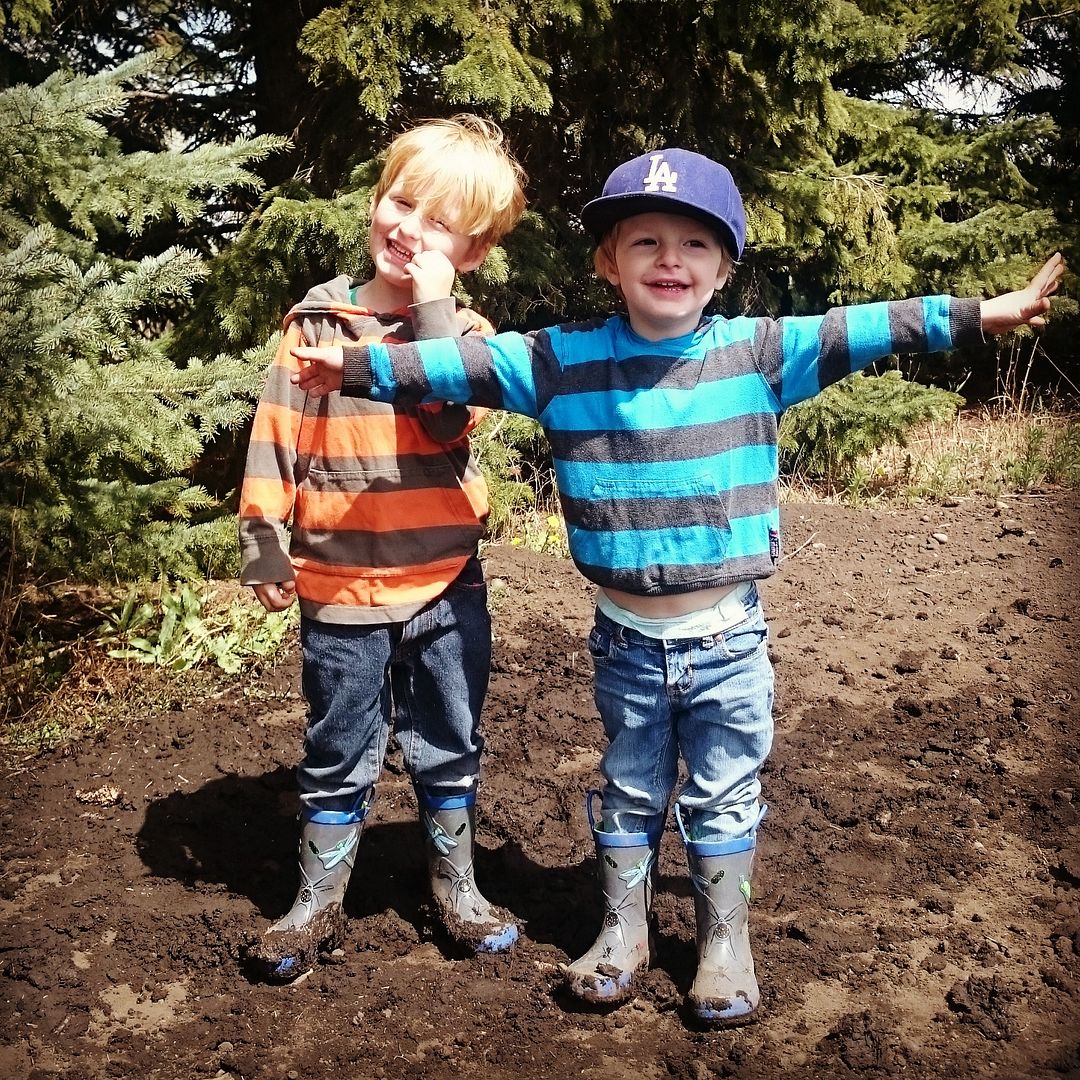 every time the boys come with me to the mission home to feed the missionaries, they like to sit by the back window and wait for this squirrel.
the mission president's wife is always feeding it so it has kind of turned into a pet.
when the boys tap on the window, the squirrel taps back!